Back to the moon! Chinese mission Chang'e3 with Yutu rover – December 2013
After 37 years, man is going to the Moon, again.
But this time not physically, just "virtually": China sent its "Chang'e III" probe carrying the Yutu rover.
Finding data on the mission on internet is quite difficult as most of them are in Chinese and Google translation are weird and confusing.
I collect here all data I was able to find in various place (forums, blogs, social networks). I do my best effort in publishing correct data.
Launch date: December 1st, 2013 – 17:30 UTC
Moon orbit insertion:  December 6th
Moon landing: confirmed  at 13:11:18.695 UTC
The landing site is at 19.51 deg. West, 44.12 deg. North, per reports from the control center, that is 20-30 km southeast of Laplace crater: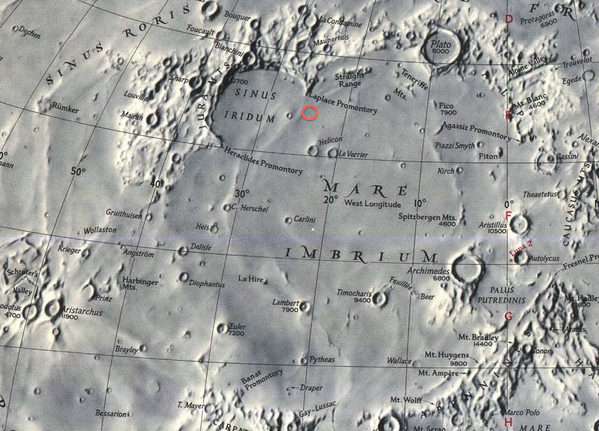 "Fake" but cool:  😉
Landing site slightly changed:

400 miles km separate Chang'e3 landing site from Russian Lunokhod landing site.
First surface image:

Landing replay:

Rover deployment: planned for 20:38 December 14th UTC successfully performed

23:45: deployment feasibility checks.
03:10: rover moves to descending ramp
04:06 rover on descending ramp; ramp unlocked and fully nominal; ramp deployed.
4:35 rover descends the ramp; "6 wheel son ground". "Huston, Mare Imbrium base here, the rabbit has jumped". 😉

Thanks to the HUGE patience of Emily Lakdawalla here it is an almost-complete deployment footage!
Low res thumbnail.  Click on link below for 16 MB animated gif, or look at Youtube version:
English: http://youtu.be/ziakx2_Ird0
Italian: http://www.youreporter.it/video_Sbarco_del_rover_cinese_Yutu_dalla_sonda_Chang_e3_sulla_Luna
Reciprocal lander/rover snapshots: planned 07:21-15:38 December 15th UTC Successfully performed:
Landing will be performed autonomously without ground support, by using radar sensors and visual sensors.
Descent will be shot by a 1024×1024 camera at over 10 FPS.

At 4 m above surface, engine will be shut down and landing will be performed in free fall; expected maximum vertical speed around 13 km/h.
Rover deployment operations will take took  around 2 hours.
Rover carries both solar panels and nuclear heaters: the first to provide electricity, the second to keep instruments warm during 2-weeks-long Moon night.
Nect activities on schedule (sorry, no translations available):
Launch footage:
http://english.cntv.cn/program/asiatoday/20131202/100389.shtml
LIVE STREAMING COVERAGE (possible links):
http://live.china.org.cn/2013/12/13/coming-soon-change-3-lands-on-the-moon/
http://www.cctv-9.com/2013/default.asp?VideoName=live
http://english.cntv.cn/live/p2p/index.shtml
LIVE LANDING THREAD:
http://forum.nasaspaceflight.com/index.php?topic=33511.15
Points of interest in the footage (in Italian):
02:56 Distacco booster laterali
03:10 Distacco primo stadio
03:58 Passaggio a telecamera interna
04:50 Passaggio a seconda telecamera interna
06:15 Distacco secondo stadio, accensione terzo
19:36 Distacco lander, in rotta verso la Luna
1:04:00 Inizio animazione 3d
1:08:27 Panoramica Control Room
1:12:00 Dispiegamento zampe
1:16:20 Dispiegamento pannelli solari
UPDATES AND DATA SOURCES:
http://www.spaceflight101.com/change-3-mission-updates.html (site)
http://www.unmannedspaceflight.com/index.php?showtopic=3105&st=315  (forum)
http://www.planetary.org/blogs/emily-lakdawalla/2013/12060741-change-3-has-arrived-at-the-moon.html (blog)
http://bbs.9ifly.cn/thread-11199-1-1.html (Chinese forum, plenty of info;use Chrome for automated translation)
http://www.weibo.com/3494982177/AmEaViSd5?mod=weibotime  (Chinese "twitter")  (also http://www.weibo.com/zkyzs)
https://twitter.com/search?q=%23ChangE3&src=hash  (English twitter)
http://blogs.esa.int/rocketscience/2013/12/11/esas-new-norcia-station-to-support-moon-landing/  (ESA blog)
http://www.xinhuanet.com/english/special/change3/ (news)
https://twitter.com/GuangLin_Galaxy (Twitter)
http://lunarnetworks.blogspot.ca/2013/12/quick-glance-at-change-3-sinus-iridum.html (english blog)
http://astronomiapraticapertutti.blogspot.it/ (Italian blog)
Chang E II lunar Rainbow Bay local image maps http://bbs.tiexue.net/post_4596431_1.html
China canceled manned lunar program http://bbs.tiexue.net/post_7006575_1.html
Landing failure prediction    http://bbs.tiexue.net/post_7007285_1.html
New electric propulsion engine   http://bbs.tiexue.net/post_7011243_1.html
Nuclear devices on Chang'e 3   http://bbs.tiexue.net/post_6987138_1.html
"Black 750 seconds"   http://bbs.tiexue.net/post_7012426_1.html
"Moon race"   http://bbs.tiexue.net/post_7003966_1.html
Redirecting Chang'e 2 to Mars?   http://bbs.tiexue.net/post_7004959_1.html
Chang E II lunar satellite has 32G terrestrial transmission of scientific data   http://club.china.com/data/thread/12171906/2718/69/65/5_1.html
Tech data:
Descent phases:
Comparison to Mars rovers:
Spirit/Opportunity dimensions:
Height = 1.5 meters
Width = 2.3 meters
Length = 1.5 meters
Weight = 1062 kg
http://www.docstoc.com/docs/798284/Mars-Exploration-Rover-Launch-Press-Kit
Models:
http://s.taobao.com/search?initiative_id=staobaoz_20131209&js=1&q=%E6%CF%B6%F0%C8%FD%BA%C5&stats_click=search_radio_all%3A1

Landing site (Sinus Iridium, see white arrow):
http://lunarnetworks.blogspot.ca/2013/12/quick-glance-at-change-3-sinus-iridum.html
Chinese name: 嫦娥三号  (Chang'e 3 or Chang'e III)
Una Risposta
[…] riportato in dettaglio in altro post, il 14 dicembre 2013 la sonda cinese Chang'e 3 è atterrata con successo sulla Luna, […]